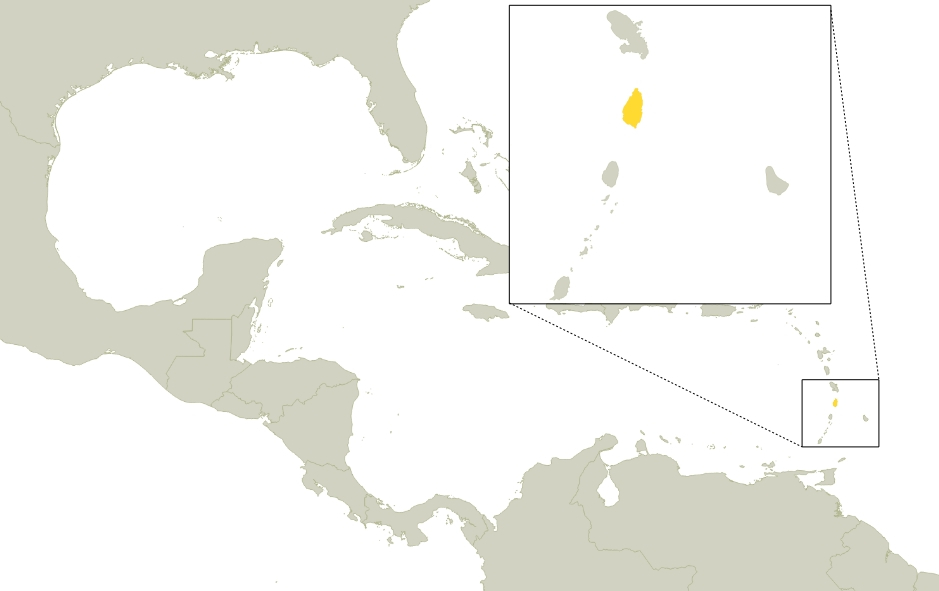 St. Lucia is a SIDS located to the north of Trinidad and Tobago. Its economy depends on tropical commodity crops. The terrain is varied with volcanic and mountainous terrain as well as fertile valleys. Most of the population in St. Lucia lives on the north coast, close to national capital Castries. The island is prone to hurricanes and volcanic activity. The later provides the island with a strong geothermal potential.
Tourism is the main source of income on the island, and also responsible for 65% of its GDP. However, St. Lucia is vulnerable to volatile tourism receipts and the fluctuation of oil prices, because the country energy production still depends on fossil fuels. Also, its production of bananas has been highly impacted by competition in the region. These external shocks combined with the 2008 world financial crisis were have had a lasting impact on St. Lucia's economy.
According to the CIA, 16,446 people in St. Lucia don't have access to electricity. In 2012, its domestic energy production was 361.7 million kWh, the 167th largest worldwide. Close to the Equator Line, St. Lucia has an average temperature of 28ºC (82.4ºF) resulting in a high solar potential for both electricity production and water heating. St. Lucia is also in the path of north-easterly trade wind belts, which is an ideal location for wind power generation. As aforementioned, St. Lucia lies a volcanic area with great geothermal potential. Most of its volcanic activity is found in the south-west part of the island, specifically in the town of Soufriere. However, regarding hydroelectric potential, there is not much as St. Lucia only has minor rivers. The Roseau dam would be the only one with any potential to produce energy.
An Energy Efficiency Guide has been developed by the Ministry of Physical Development and the Environment in a partnership with PPA to provide guidance to the hotel industry as well as the households that are interested in reducing energy consumption through increased efficiency. LUCELEC (St. Lucia Electricity Services Limited) is the only energy company – natural monopoly, due to St. Lucia's small size.
Government of St. Lucia is working to install solar panels on the public residence of the Governor-General, Government House. The project will save thousands of dollars in energy costs and is representative of the country's long-term goal of running 100% on clean energy and mid-term target of 35% of energy coming from renewable sources by 2020. St. Lucia government is also looking forward by installing a 3.2 megawatt solar power plant in the south of the island. Citizens are expected to obtain cheaper energy after the power plant implementation. In 2015, tests were made in Soufriere to assess the possibility of installing a 12 megawatt wind farm. This would be a joint project of St. Lucia Electricity Services Limited (LUCELEC) and Windtex Energy. Four turbines would be placed close to Bordelais Correctional Facility. The new wind plant operating under full capacity would be able to provide energy to more than 19,000 homes. If built, the wind farm will reduce the amount of fuel purchase by LUCELEC by 10%.
St. Lucia was also mentioned as part of GSEII's partners following projects:
CCCCC Coastal Protection for Climate Change Adaptation in the Small Island States in the Caribbean (KfW)

Rocky Mountain Institute LED Street Lighting Project

Rocky Mountain Institute 3.2 MW St. Lucia Utility Solar

Rocky Mountain Institute Geothermal Project
---
GSEII Events in St. Lucia
April 2006. St. Lucia Energy Policy Stakeholders Meeting
September 2005. Caribbean Solar Financing Program Training Session