From policy articulation to hard-hat projects, GSEII has partnered with Caribbean and Pacific islands to catalyze clean energy development.
---
Sustainable Energy Plans and National Energy Policies
GSEII has partnered with all seven Caribbean island countries on the formation and implementation of Sustainable Energy Plans (SEPs) and National Energy Policies (NEPs).
Assisting partner islands with NEPs and SEPs is GSEII's major method of removing political barriers to renewable energy and energy efficiency projects. Working on a national level, GSEII partners with island governments to develop and implement these policies and plans. GSEII has worked on multiple islands to write policies where none existed, update and improve old ones, or compile plans for SIDS which only had policies in place.
SEP and NEPs help identify activities to increase sustainable energy use and outlined the appropriate policies for their implementation. NEPs (the policies) are the goals and targets; for instance, to: "increase the use of renewable energy to 20% of total energy production by 2020." The SEPs are the specific ways (the plan) that policies can be realized such as: "the government is to facilitate acquisition of land for the wind farm planned by the national utility on the east coast."
The plans have and continue to identify regulatory and incentive measures, develop targets and timetables for action, encourage the development of industry capability and partners for project design and implementation, and identify the need for assistance in securing financing and investment sources.
In some countries, GSEII has also conducted progress reviews of NEP / SEP projects.
---
Energy Efficiency
Since the founding of GSEII, one of our principal goals has been working to find ways to make energy use on member SIDS more efficient and more economical.
In order to do this, GSEII partners have organized the distribution of energy efficient light bulbs to mitigate electricity bills, brought the earth home concept to the island of Grenada, co-sponsored the now annual energy week on St. Lucia, and performed energy audits in the dominant hotel industry on St. Lucia. Though the ultimate goal of GSEII is to help SIDS move away from fossil fuel use, these projects have improved quality of life for many of the citizens of these islands and have made reductions to fuel use, emissions, and energy bills.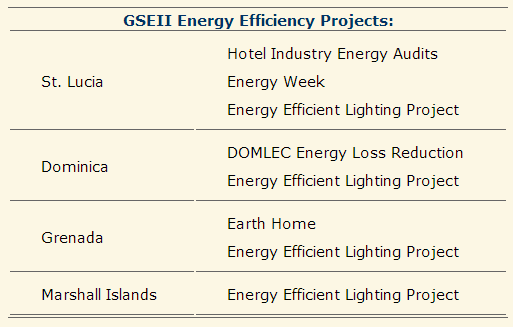 ---
Wind
Over time, GSEII has advanced partnerships between island governments, private developers, and utilities that have the greatest potential to develop wind farms. GSEII has also helped map island wind resources, form relevant policies and plans to mitigate barriers, and assist with project funding. Unfortunately, GSEII's efforts have not resulted in the construction of any wind turbines in its partner islands. The only active wind farms in the Caribbean are in Jamaica and the Dominican Republic (both AOSIS SIDS).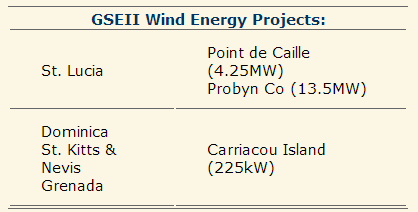 ---
Solar
GSEII has advanced solar technologies throughout the Caribbean an Pacific. There are two types of solar energy that GSEII projects support: Photovoltaic (PV) and Solar Thermal. PV cells convert sunlight directly into electricity and can be connected to the grid or serve one building or facility- which can be beneficial for remote islands. Another advantage is that solar panels do not intrude on vistas like wind turbines which makes them more palatable to the hospitality industry. Solar thermal technologies utilize the heat generated by the sun which is the backbone behind the GSEII Solar Hot Water Systems (SHWS) campaign. Solar water heaters collect solar power to heat water in storage tanks used in buildings rather than water boilers or electric systems. To promote the energy efficient solar hot water systems, GSEII developed a financing mechanism for them, provides financial training sessions, and is building consumer awareness of the availability and benefits of those systems.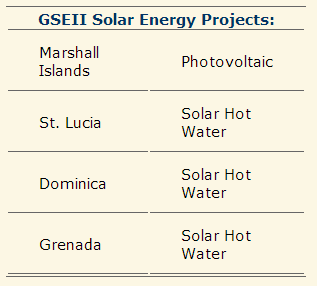 ---
Geothermal
GSEII and its partners have laid the foundation for successful geothermal energy projects. GSEII's work in geothermal energy has largely been part of the Organization of American States' Eastern Caribbean Geothermal Energy Project (Geo-Caraibes). In pursuit of developing sustainable geothermal energy on the islands, OAS, working through GSEII, has held conferences and workshops, accessed funds for commercial developers to conduct exploratory drilling, conducted assessment and prefeasibility studies, and has prepared legislation, particularly on St. Kitts and Nevis, between developers and government authorities. Much work has been done on these islands in geothermal development with the hope that they can use this geothermal energy as an alternative to fossil fuel use.

---
Biofuels and Biomass to Energy
GSEII has helped islands to explore the utility of using indigenous bio-resources for energy use. Utilization of different types of biomass or waste products presents an interesting opportunity for business managers in Small Island Developing States, and as such GSEII and its partners are studying the development of biofuels and biomass-to-energy systems. Through a diverse array of projects ranging from coconut biofuels to a landfill gas to energy project, GSEII is able to capitalize on the abundance of biological by-products to create clean energy. GSEII has conducted several feasibility studies on these islands and has worked with local stakeholders to determine whether these bio-energy sources are practical or applicable for the various islands.