WORKING TOWARD A FUTURE OF ISLANDS LEADING BY EXAMPLE
The Global Sustainable Energy Islands Initiative (GSEII) was founded in 2000 to support those most vulnerable to the impacts of climate change: Small Island Developing States. Our consortium of international NGOs and multilateral institutions now works with nine island states across the world on diverse projects.
GSEII sees opportunity on these islands, now threatened by rising sea levels, coastal erosion, salinization, and extreme weather events. GSEII's work to increase renewable energy and energy efficiency facilitates the transition away from fossil fuels and benefits the islands' economies and the environment.
On June of 2012, GSEII launched VISION 20/30, a set of strategic partnerships for island economies.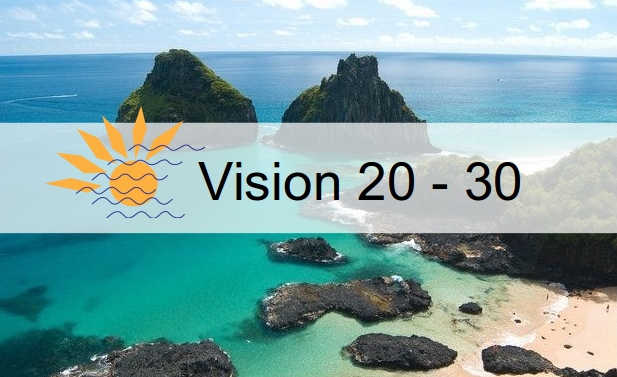 Click the image above to read the press release of our launch announcement
at the historic Rio+20 UN Conference on Sustainable Development.
"VISION 20/30 is a campaign to scale up international support for all Small Island Developing States (SIDS) and participating island economies, so they may achieve energy self sufficiency to the extent feasible. This initiative seeks to form mini-partnerships around pilot nations that may be fast tracked to achieve energy independence by 2020, which it is hoped would lead to the energy transformation of most of the Small Island Developing States (SIDS) by 2030."
– Jose Maria Figueres Olsen, Carbon War Room President and Former President of Costa Rica.
---
A message from GSEII Project Manager and Climate Institute COO Nasir Khattak,
 from his speech before the UN General Assembly:

"We need political will, vision and leadership, and out-of-the-box thinking. SIDS [Small Islands Developing States] spend 25% of their foreign exchange on importing fossil fuels. Energy independence of SIDS by utilizing renewable resources is the shortest path to their economic development, which will in turn reduce the vulnerabilities of SIDS, enhance their capacity to adapt, and develop resilience to face the multitude of other challenges they are confronting. In addition, SIDS can serve as models and examples for bigger nations…"
Explore the new GSEII.org to learn more.
---